How can I be creative if I don't feel like I have talent? How can I be creative if I don't have a spiritual awakening or God's gift in a finger touch?
Another school of thought about creativity centers around the concept of luck. Photographers will say that they were just lucky to be at the right place at the right time. Luck is this ineffable IT factor that we think exists because we never see all the effort and failure that preceded the luck. I prefer to adopt the mindset that is expressed by filmmaker Samuel Goldwyn who is credited with saying, "I am a great believer in luck, and I find the harder I work the more I have of it."
The Creative Process
In my research I have found that creativity does not have to be limited to inspiration and luck. Being creative is a skill that can be learned and it is a way of discovering your unique perspectives on the world and your talents and gifts.
When we think of creativity in this way we can see that the only pre-requisite for creativity is curiosity, experimentation, and the discipline to consistently make new work as part of a creative practice as a means to gain insights into how each of us uniquely sees the world. We can overcome the limitations of the photo-mechanical medium and reveal the maker's mark through the patterns that emerge in the photographs we make. This is a form of creativity that is accessible to all of us.
I love this work by Andy Goldsworthy because he expresses this creativity with just found natural material and puts it together in interesting combinations.
He can create artworks by simply gathering rocks and stacking them or collecting similar colored leaves and putting them together, or gathering sticks to create unique design.
From Goldsworthy's work I think photographers can learn a lesson about the simplest way to start expressing their creativity which is to create a TYPOLOGY portfolio.
Typologies: Revealing Our Creativity
A typology is literally just a series of photographs that have a shared trait that is either a shared theme or a shared physical attribute. You could make a typology by going out and taking 20 photographs that shared the color yellow or you could make 20 photographs of a particular theme such as LOVE. A typology is a series of photographs that are unified by either a metaphor or a metonym… or both!
By looking at a large number of our prior photographs we can pull together a collection that shares similar traits. We can reveal our creativity by the patterns that emerge in a large collection of images. You can trust me… those patterns will be there in your work because seeing is part of a biological process that is influenced by our attention.
Attention Guided Vision
Photography is an act of seeing that is guided by our attention. What we pay attention to is shaped by our life history and what we have determined to be necessary for our survival. We pay attention to threats and we pay attention to things that nourish us and excite us.
Therefore, when we make photographs in the most simplistic point and shoot manner we are guided by our attention to these survival elements. I could go on an on about the cultural and biological factors that influence our attention but it really isn't necessary at this point because you can discover your own patterns of attention by simply reviewing your work and pulling together images that have common traits. It is really like sorting a deck of cards into its ranks and suits.
To do this we can review a large volume of photographic images and pull together images that have a common theme or physical trait and place them together in a portfolio. In this way we are revealing to ourselves and the world by seeing the patterns that exist in our worldview.
The first step towards emerging as a creative artist with a camera is to recognize what is guiding our eyes towards a particular subject. This is an intuitive approach to discovering our creativity by using lots of observations of our existing work to determine the pattern that reveals the visual DNA of the photographer's view point that is based upon their life experiences.
Creativity Defined: Orignality + Spontaneity
Discovering our own creative patterns relates to the very definition of creativity. Creativity is defined as being a synthesis of originality and spontaneity.
Originality is really where the creativity comes from. It is what separates one artist from another. The psychologist Sylvano Arieti' defines originality is the frequency and intensity of life experiences. Your originality comes from your life and the experiences you have. Therefore to cultivate your originality you should go out and live an interesting life!
The philosopher Frederich Nietzsche offers up this advice to living an interesting life. He says, "The secret of realizing the greatest fruitfulness and the greatest enjoyment of existence is: to live dangerously!"
I don't think he was encouraging extreme risk but he was saying we should go live out an interesting life. This can help cultivate originality in our creativity.
The other part of creativity is spontaneity. With art making spontaneity is technical mastery. In photography it's mastering the camera, the computer software, the lighting equipment, the exposure metering, to the point of not having to consciously think about it. If you're working with film, regardless if it is cyanotype, platinum, or silver gelatin, you're mastering it to the point where you don't have to consciously think about the process while you work so that you can concentrate solely on the content of the imagery.
I want you to think about when you first picked up a camera, particularly one that had manual exposure controls. When you were trying to just get that first exposure by lining up the meter and and aperture and the shutter speed you aren't thinking about what you're actually looking at. You were thinking about the technical facets of recording an image instead of being able to think about your composition. The problem that we have is that we have to get beyond the technical to get to the intuitive and spontaneous.
To help understand this mastery and intuitive craftsmanship I recommend reading Eugen Herrigel's classic book Zen and the Art of Archery published in 1948. In it he describes the mastery of learning when to release the arrow. He describes that moment as being like a bamboo leaf under the weight of snow and just at the moment it may break, it sluffs off the snow. Photography can be like that. Cartier-Bresson described it as the decisive moment when all of the elements come into a geometric alignment that realizes it's highest composition potential.
I like to encourage photographers to go out and shoot with a point and shoot or cell phone. I try to make photographs with my smartphone every day. At the end of a month or year, I will go back and review the work and gain insight into what I was intuitively drawn to. From there new ideas emerge and I begin to craft work using whatever camera is the best tool for expressing the idea.
Ultimately creativity is about arranging elements to transmit ideas that evoke spirit so what we're really talking about here is this idea that a camera (especially today's cameras) will, with a push of a button, make a perfect recording and image likeness of the world we live in. It's really a photocopy machine in the hands of a novice. In order to move beyond simple reproduction we need to synthesize our life experiences and our technical skills and we need to arrange visual elements in a way that transmits our unique ideas that evoke emotion and rise to the level of spiritual transcendence.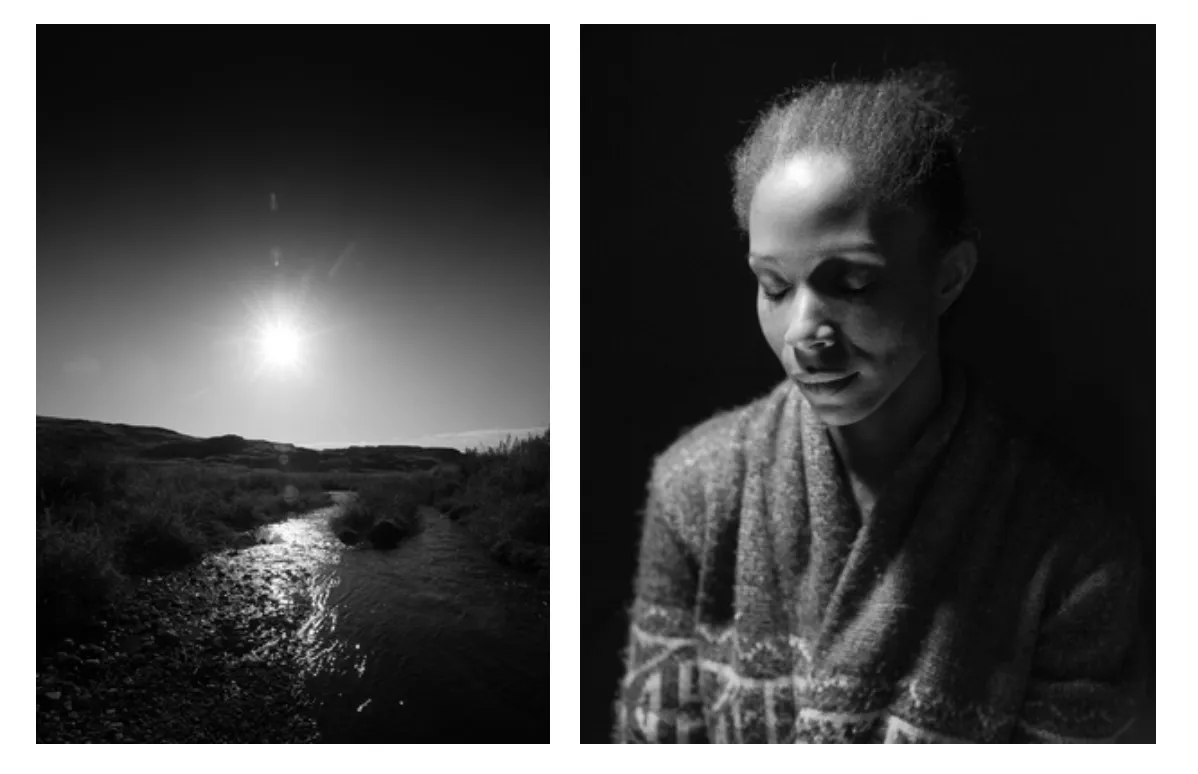 Here is an example of seeing similarities and patterns that emerge into an evocative idea that operates on the spiritual level. These two images that were made a week apart explore the idea of the light above and the way it draws out the inner spirit.
Creative Tip
When looking at a library of your photographs (from cell phone or other sources) try to move as quickly through the images as possible and then pay attention to your gut reaction. As you quick scan the work you will instantly recognize the ones that impact you on an emotional level. Pause and select these images and move them into a collection. The problem with spending too much time looking at your images is that you will have the memory conjured up of the time you made the image and that pleasant memory of taking a photo will cloud your judgement about the composition. Move fast and trust your gut!
Have a great day!